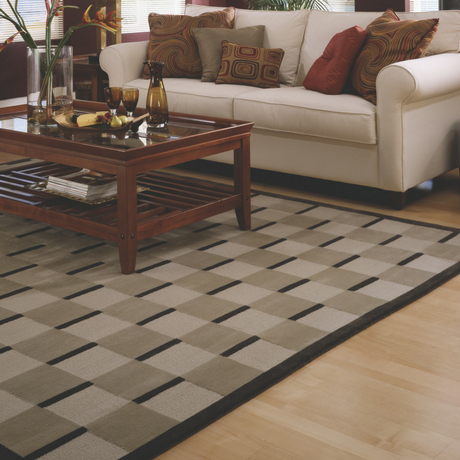 The right rug can make or break the décor of a room. If your rug is outdated, your room might appear like it went back in time. If the colors clash with your furniture and wallpaper, your room might feel too busy looking. Sifting through various prints, color palettes, and textures can be rather overwhelming, so we've taken the time to outline the top trends in area rugs for homes.
1. Natural Fiber & Eco-Friendly
As more and more consumers care about the sustainability of the products they buy, there's been an uptrend in purchases of rugs made out of organic
materials. Natural fibers such as jute, coir, hemp, sisal, mohair, and cotton all lend themselves to a more eco-friendly product for the environmentally-conscious homeowner.
2. Bold, Geometric Patterns
Patterns go in and out of style, but you can always count on fun, geometric shapes to be popular among the artistically abstract crowd. A rug with colorful geometric shapes can make a room fun, energetic, and exciting. Kids love the fun patterns as well
3. Pop of Color
Rugs can be a beautiful centerpiece to a room by adding a simple pop of color. For example, if your room is mostly neutral colors with a hardwood floor, a single-toned area rug will stand out against the muted backdrop. Don't be afraid of color – try a bold blue or a playful coral to brighten the room.
4. Hand-Knotted & Tassel Rugs
Going along with the all-natural look, hand-knotted rugs have a rustic, handmade feel to them. People love the fringed edges, which gives the rug a woven look. Similarly, the tassels have fun, decorative appeal.
5. Pale, Relaxing Colors
Seeking to create a peaceful, quiet atmosphere? A pale area rug can calm your senses. Shades such as muted lavender, pastels, light blue, and beige can transform you room into a relaxing haven. It is recommended that you don't pair a pale rug with stark colors, like black or white, as it can offset the scheme of the room.