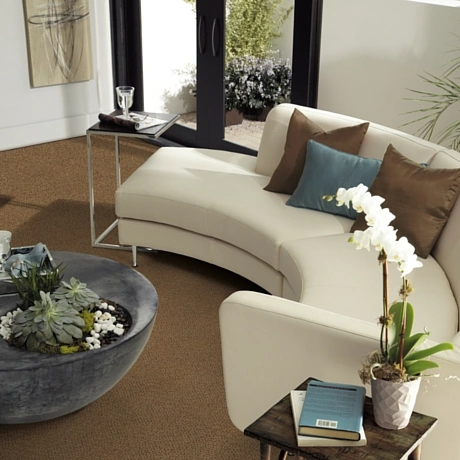 Tigressa Cherish is the Tigressa brand's line of soft, luxurious carpets that provide excellent softness and strength. This softness comes from the carpet's small fibers, only a quarter of the size of the traditional Tigressa fibers. Don't let this carpet's softness fool you. While smaller fibers create a luxurious feel, this carpet is extremely durable due to more filaments per square inch in this carpet than other products. This allows wear from traffic, soiling, and staining to be distributed across more individual fibers.
Available in hundreds of colors and 22 different styles, Tigressa Cherish can fit your needs in practically any design setting! Tigressa Cherish carpets are a Green Select product because they are made from recycled type 6 nylon fiber. This is a perfect carpet for the environmentally-conscious buyer. You can find out more about Carpet One's environmental preservation efforts on our Green Select page. Tigressa Cherish carpets are soft like a cashmere sweater, and much like a cashmere sweater, special care must be taken in order to clean your carpet. Don't let this scare you away; the only special care that you need to give is to use a vacuum that meets certain specifications. We recommend a vacuum that is lightweight and has an adjustable height that will clean your carpet without damaging the fibers. Failure to use a vacuum meeting the manufacturer's specifications may void your warranty.
All Tigressa Cherish products are covered by Carpet One Floor & Home's Platinum Warranty, which features life of floor soil, stain and installation coverage, 20 years of wear and texture retention, and 90 days of the Beautiful Guarantee.